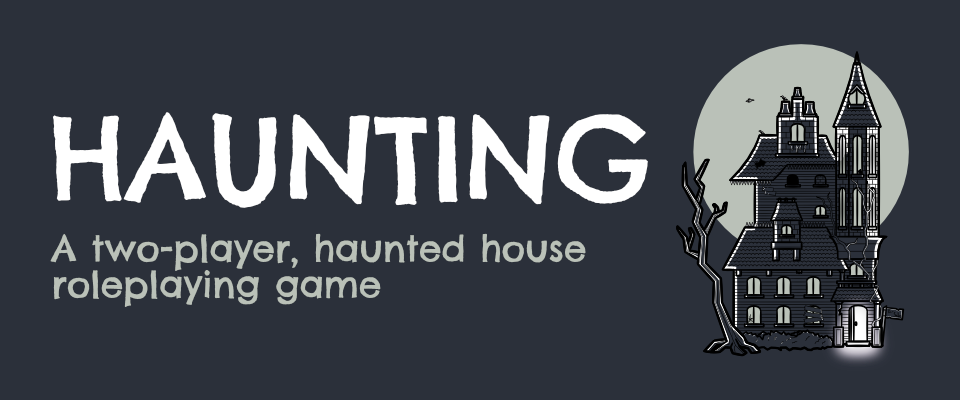 Haunting
A downloadable Haunted House RPG
Haunting
Haunting is a two player game about a sentient House that wants to devour its Occupants.
During play, the players will work together to create their story, documenting the time that the Occupant spends living in the House and telling the tale of how the House will inevitably becomes vacant once more.
The House is waiting…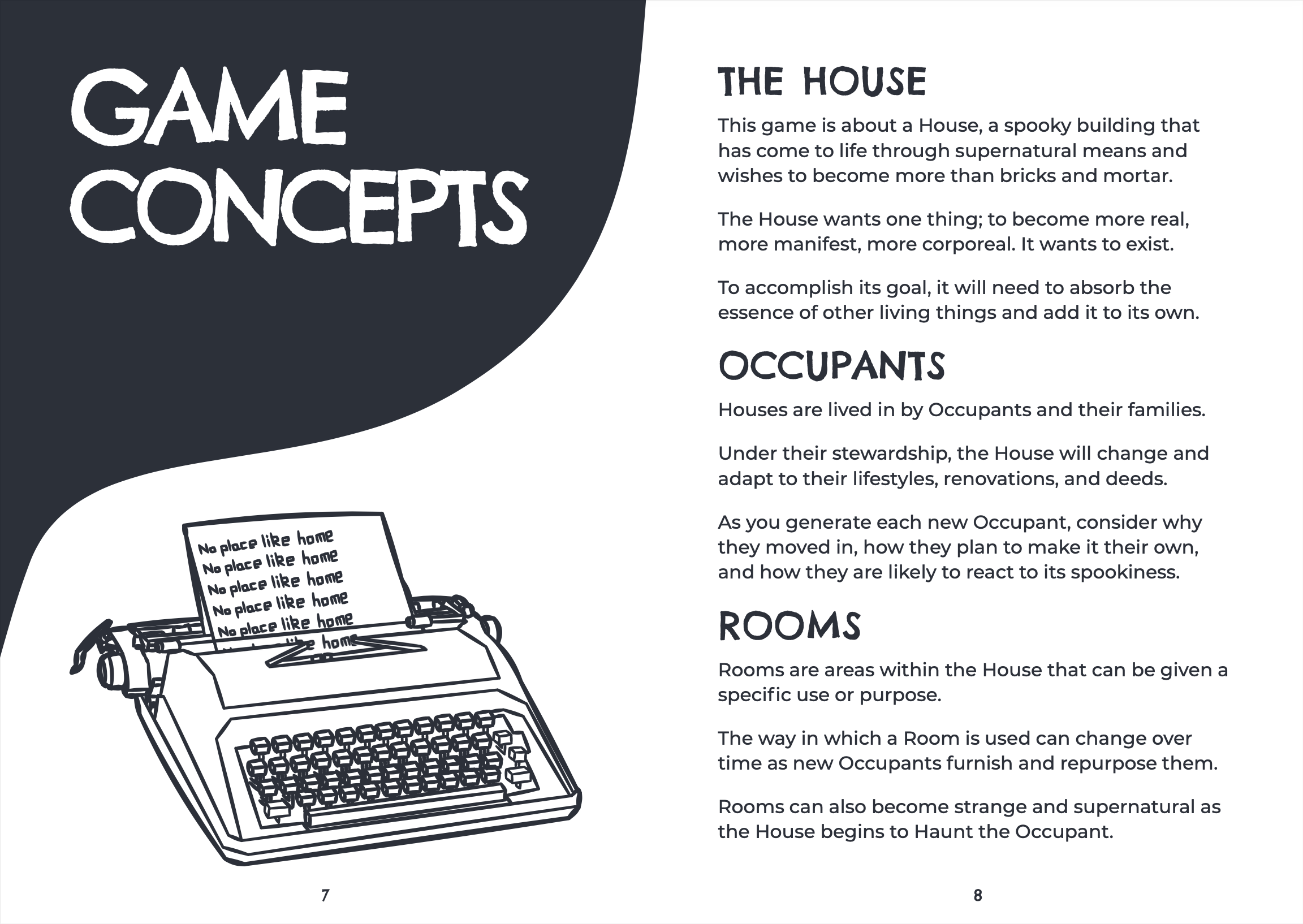 How will you play?
You'll create Occupants from prompts.
As Occupants move in they will leave their mark through adding or changing rooms. But the House will push back, twisting these rooms in spooky ways.
Player 1 (Occupant): the Gentlefolk add a ball room to host lavish parties.

Player 2 (House): the guests complain of inexplicable voices

Player 1 (Occupant): the Gentlefolk blame old pipes and insist that the party continues
In turn, the House will haunt the Occupants.
Player 2 (House): every few days when the Author is in the library, the book shelves will start to shake, knocking books to the floor.

Player 1 (Occupant): the Author flees from the room

Player 2 (House): as they run, the bookshelves start to tip over like dominoes, and they only just make it out
Finally, together you decide this Occupant's fate, will they Fight, Flee or Fall to the House?
As you wait for a new Occupant you'll Rest, with music on and your eyes shut, until the next Occupant moves in and you repeat the process until your story is complete.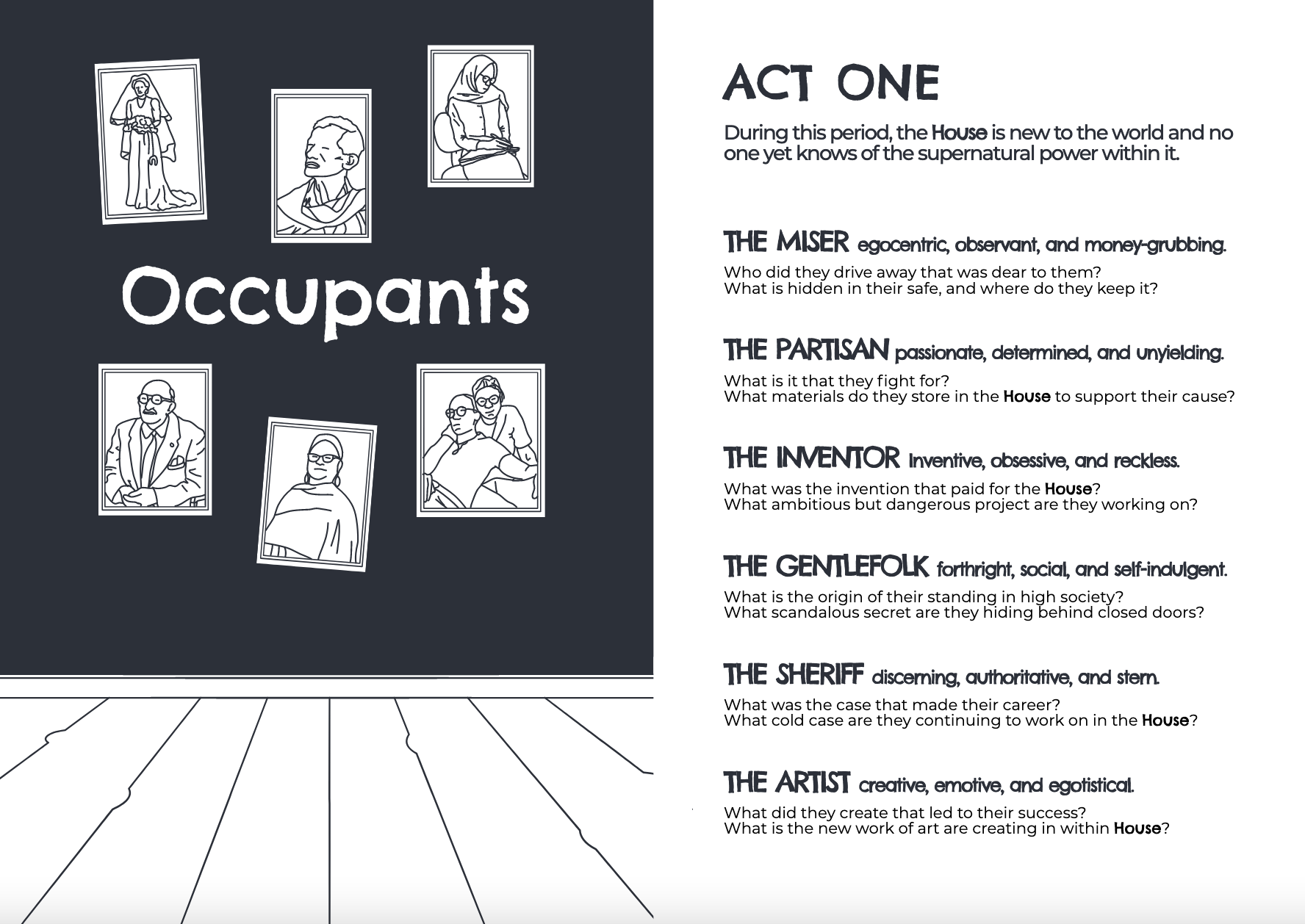 Recording your story
The game asks you to keep a journal of the events as they unfold and record the changes to the house through a drawing of it.
You can draw one from scratch yourself or use the printable House template we've included: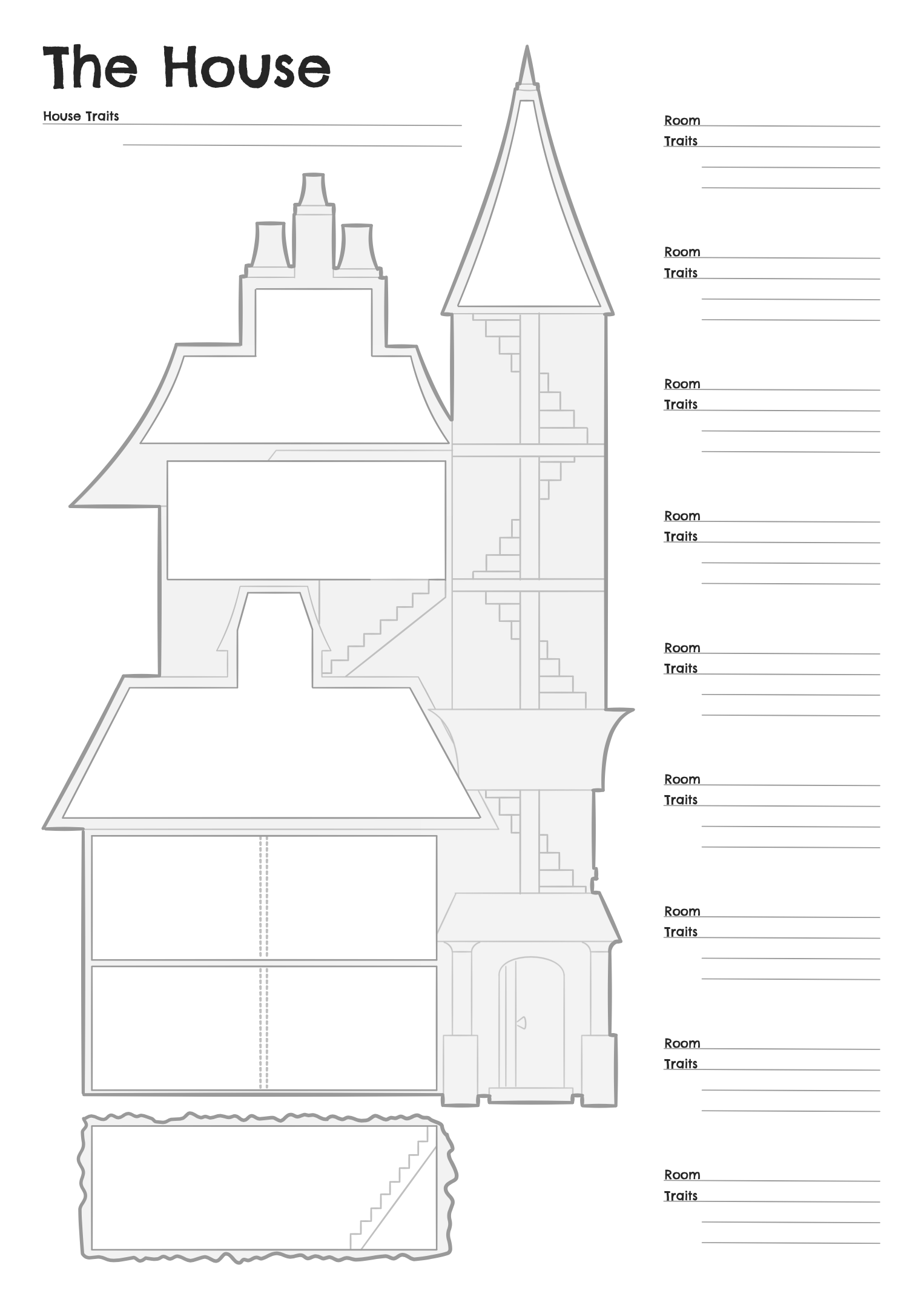 Using sound
During play, you will prompted to listen to some small audio tracks as part of the game. These tracks are currently under development and are due to be released as part of a future update.
In the meantime, feel free to use the excellent audio composed for the game Artefact by Jack Harrison. These tracks were created by the talented Christopher Michael Roberts and they work well for this game.
You can find them here: https://theartefact.vercel.app
Alternatively, feel free to use your own eerie music.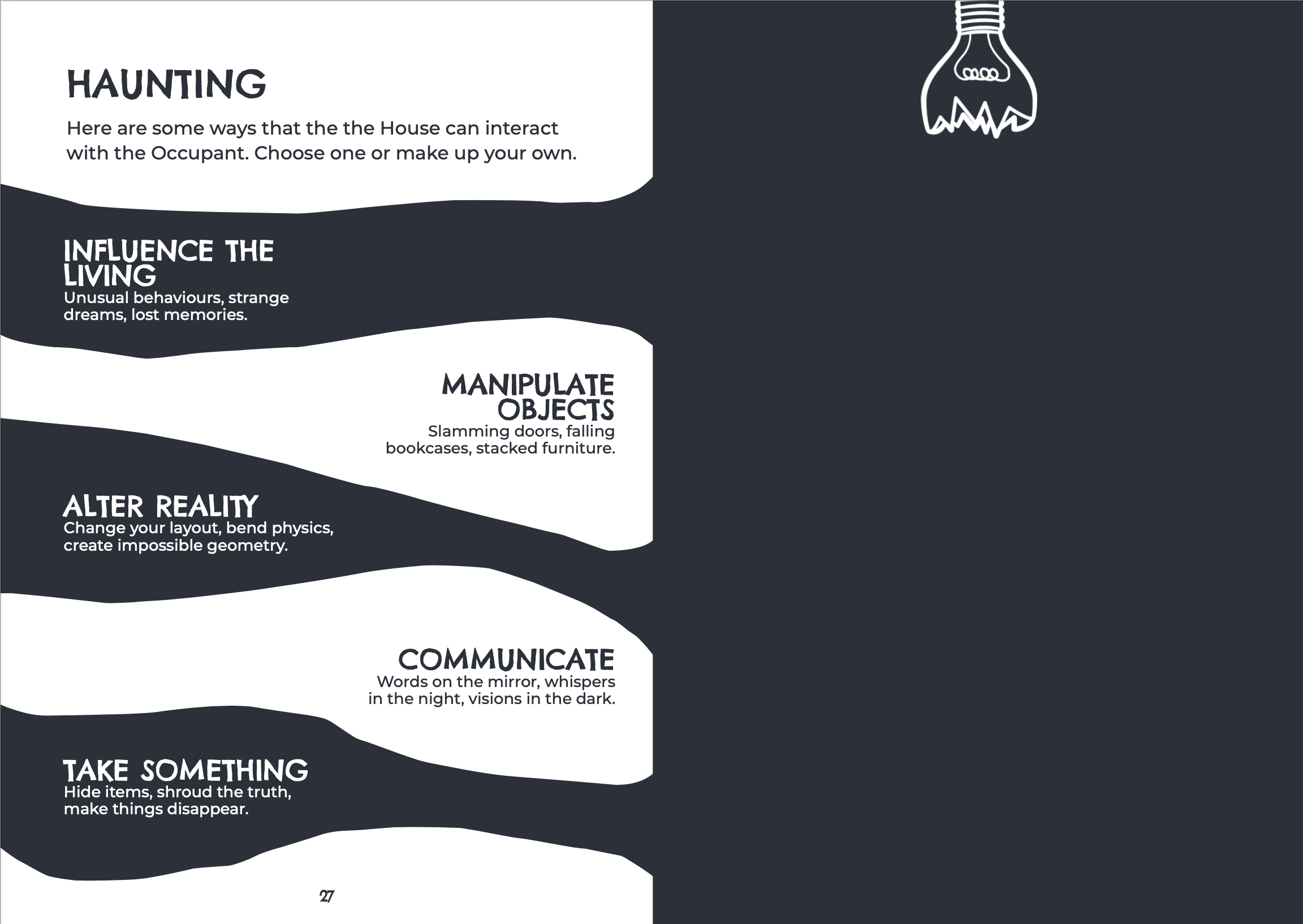 What will you need?
Two players that are feeling spooky.
A couple of hours.
Some eerie ambient music
A safe place to play in dim light.
A way to document your story in words.
Something to draw with.
Snacks!
Acknowledgements
Haunting is based on the Lost & Found SRD and inspired by games like:

You Might Also Like

Purchase
In order to download this Haunted House RPG you must purchase it at or above the minimum price of $5 USD. You will get access to the following files:
haunting-cutaway.png
327 kB
haunting-singles.pdf
1 MB
Community Copies
Support this Haunted House RPG at or above a special price point to receive something exclusive.
Community Copies
We want to ensure that everyone has access to our games, so feel free to pick up a copy of the game for free, no questions asked.
If you play the game, we'd love to hear how it went and would greatly appreciate you sharing our work with your friends, but there is no obligation for you to do so.
We really enjoy making our games and hope that you enjoy them too.
Comments
Log in with itch.io to leave a comment.
hey there, we love it. Is a printed edition planned? Would totally buy that.
This looks nicely laid out, but I can't print it in a booklet because it's provided in spreads. Would you be willing to provide an individual pages version? Then I can print it in booklet format using a PDF reader.

It looks very interesting!
Thanks for the feedback! That should be very do-able, we'll see what we can do.
We've now uploaded a single page version of the game for you to use. Have fun!
Haunting is a two-player haunted house RPG. You tell the stories of the occupants, whom the sentient house tries to devour. With the current housing market, the place won't stay vacant for long!
A nice little haunted house game that, by basing itself on the Lost & Found SRD (that rule system originally used brilliantly by Artefact and derived from the no less brilliant The Skeletons), shifts the usual point of view - you would play the occupants of this strange house who are scared or trying to find out its secrets - and puts the house itself back in the center of the story, without making it any less scary. Even if the whole thing, as with many Lost & Found games, is probably a bit too storygamey for me, the principle works very well and contains some good ideas for anyone who would like to make a game centered around a place or a building!